Support A Good Book Drive and build a library of children's books for East Vancouver literacy program the Writers' Exchange.
This is a story about stories and storytelling. Its purpose is to inspire you to, first, give a copy of your favourite children's book to a kid and, second, support A Good Book Drive if you live in Vancouver. Why? Because stories are the most powerful communications tool that we, as humans, have at our disposal.
"How do we get people to act on our idea? We tell stories." This is a line from the first chapter of Made to Stick by Chip and Dan Heath, a must-read for teachers, communicators, marketers, leaders, and pretty much anyone who wants to get their ideas across in an effective and inspiring way.
In a nutshell – or some kind of stickier legume – here are the Heath Brothers' six principles for SUCCESsful ideas:
SIMPLICITY – To strip an idea down to its core, we must be masters of exclusion.

UNEXPECTEDNESS – We need to violate people's expectations. We need to be counterintuitive.

CONCRETENESS – We must explain our ideas in terms of human actions, in terms of sensory information.

CREDIBILITY – We need ways to help people test our ideas for themselves – a "try before you buy" philosophy for the world of ideas.

EMOTIONS – We make people feel something.

STORIES –  Research shows that mentally rehearsing a situation helps us perform better when we encounter that situation in the physical environment. Similarly, hearing stories acts as a kind of mental flight simulator, preparing us to respond more quickly and effectively.
Like I said, storytelling means the ability to influence, and stories are not only the preferred idea-delivery-mechanism of the Heath Brothers, but are also at the centre of Andy Goodman's belief that "stories are the single most powerful communications tool" that we have available to us. Check out his very free and very awesome PDF "Why Bad Presentations Happen to Good Causes" to learn more about incorporating storytelling into what you do.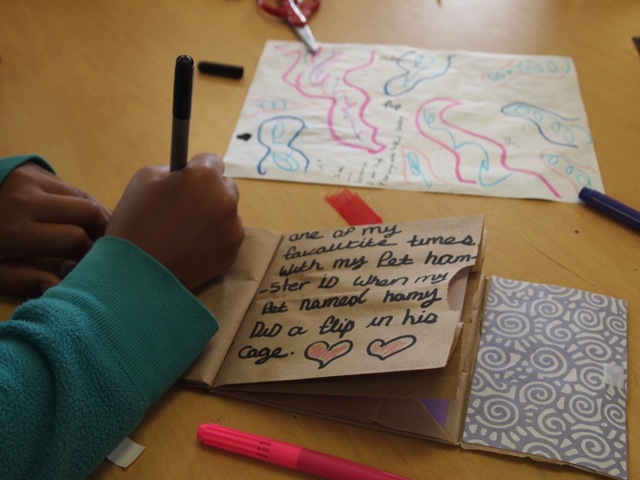 In the broadest professional sense, recent research by the American Management Association, the Canadian Association of Career Educators and Employers, and several North American universities has found that the top competency employers look for when they hire talent is communication: they want to know that you can speak and write effectively, persuasively and with good grammar and syntax.
Fun fact: as a young professional, it is more detrimental to your career to consistently spell things wrong on Facebook, Twitter, LinkedIn, and your blog than it is to have pictures of you drinking.
So, knowing how to understand, create and tell stories is possibly the most important thing for human beings to harness in order to realize their potential, which is why you should help kids from inner-city schools in Vancouver achieve their storytelling potential by supporting A Good Book Drive. And if Vancouver isn't home, well, there are programs like this one in your community, too. And if there isn't such a program, start one.
The need for literacy programs in inner-city Vancouver is evident; schools designated as "inner-city" are located in communities where crime rates are high, and a large percentage of the population has low education levels and receives income assistance. The children growing up in these neighbourhoods and attending inner-city schools are struggling with reading and writing.
A Good Book Drive is an annual book drive in Vancouver sharing children's books and stories with a new generation of readers. It is a project from the non-profit storytelling organization Rain City Chronicles and this year the campaign will support Vancouver's Writers' Exchange.
The Writers' Exchange is the only program in Vancouver where children work with volunteer mentors and professional writers to boost their literacy skills and self-esteem through free homework help, dedicated reading time and creative writing projects. The Writer's Exchange is a project of Tides Canada Initiatives, a nationally registered charity.
To learn more and receive updates on A Good Book Drive please visit:
agoodbookdrive.com
facebook.com/agoodbookdrive
@agoodbookdrive
@agoodbookdrive 
For more information about A Good Book Drive please contact:
Lizzy Karp
agoodbookdrive@gmail.com
604.910.2807
For more information about the Writers' Exchange please contact:
Sarah Maitland
smaitland@vancouverWE.com
778.888.5498
vancouverWE.com